Kids' Ministry
Kids can join us in person on Sundays at 8am, 9:30am, or 11am!
OR
Kids can watch us online through our YouTube Channel!
We record one of our in-person services and post it online by Sunday afternoon.
The best way to engage and stay connected remotely is to subscribe to our MRCC Kids YouTube Channel!
On YouTube, you can also find devos with science and illusion tricks for kids to engage in God's Word with us, a playlist of our most popular worship music, and our Live Stream recordings of Kids Church. These are all great ways for your family to engage any time you want to!
On Facebook and Instagram, we post some activities and ideas for your family to engage in God's Word together throughout the week. These activities connect with the Sunday morning message.
Kids Church is available through our YouTube Channel!
https://www.youtube.com/playlist?list=PLkP26flSeUW9TNch2UQMDXqUi3awIzBzb
Kid and Family Devos can be found on YouTube
https://www.youtube.com/playlist?list=PLkP26flSeUW9Ej-0AXurICarL8iEW4t6k
Kids Church Worship can be found on YouTube
https://www.youtube.com/playlist?list=PLkP26flSeUW-nmmdkZqqbt_MmMmDHr7t8
We also welcome any feedback, videos, and photos of your kids engaging in ministry with us! It's good for them and it blesses us so much to see your kiddos engaging with us! Send an email to Pastor Allison (allison@mrccnow.org) or simply post in the comments online.
Thanks for staying connected! We love you and are praying with you!
Welcome to MRCC Kids' Ministry
Our MRCC Kids (birth through 5th grade) experience safe, age-appropriate environments where they learn about Jesus in a creative and relevant way.
It is our joy to partner with families in sharing the amazing journey of bringing children into a personal relationship with Jesus. This is such an exciting age to equip and disciple kids as they discover that there is no greater joy than following Jesus. We strive to create an environment that is fun, exciting, and safe as we challenge kids to grow in their relationship with Jesus. Each week our dedicated, background-checked KidMin Team provides age-appropriate, dynamic, and interactive lessons and truths through music, video, interactive games, Bible stories, and prayer. Come grow with us!
Your First Visit
Here's what to expect when visiting MRCC Kids for the first time:
First, find the "Welcome Center" when you first walk in the main doors. From there, one of our team members introduce you to a KidMin Team member who will help you get your kids connected.
Upon checking in for the first time, we will ask you to fill in a Visitor Card with the following personal information (NOTE: We value your privacy and will not share this information with anyone. We will keep your card on file as you continue to visit MRCC):
Parent/guardian name(s)
Child's name
Phone number
Any special instructions (allergies, special needs) for your children
Your Visitor Card will have a 4-digit number to be written on your child's name tag so that we have an easy way to reach you during the service if your child needs you for any reason. This number will come up on the screen in the sanctuary if you are needed.
Have You Decided To Make MRCC Your Church Home?
Let Us Know: Tell the person at our KidMin Welcome Center that you have decided to make MRCC your church home. We will get a little more information from you so that you will be able to receive occasional church communication like congregational letters, event information, and invitations. The following week, your phone number will be registered in the church database for checking your children in through the computer system.
Before Service: You can check your child in at any available kiosk. After finding your child's name in the database, you and your child will be given matching name tags/codes that are exclusive to your family. Your child will need to wear the name tag portion while you hold on to the matching code tag.
After Service: Bring your code tag with you to pick up your child. This provides a little extra security for all our children and families.
During Service: In the event that we need to contact you during the service, your child's identification code will appear on the screen. This is a simple indication that your child needs you and we thank you for coming as quickly as possible.
Infants with Mom Area
We have two options at MRCC for babies! There are team members ready to hold babies in our Infant and Toddler room (101). Also, for moms that need a space to stay with their babies, we have a curtained off space next to the coffee area where moms can step away with their little one. The curtain space is open between services to provide a place for families to check in, but available for moms during the service time.
Babies and Toddler Room (101)
These little ones are cared for in a safe and loving environment, playing and interacting with other children while mom and dad are able to freely enjoy worship and the teaching in our main service. Our Infant and Toddler team loves being with children, creating a friendly atmosphere that makes coming to church a happy and fun time. We encourage parents to decide when their new walker is stable enough to move into this more active environment.
Preschool Classroom (107)
(3 Years and Potty Trained - Pre-Kindergarten)
Once a toddler is three years and potty trained, they are able to join the Preschool Class, where our preschool team leads kids through our curriculum that includes a variety of games, activities, arts and crafts, snacks, sensory play, and toys all while learning more about God. We encourage parents to decide when their child is ready for this more structured classroom environment.
Kids' Church (105)
(Kindergarten - 5th Grade)
The older children can participate each week in their own church service we call "Kids Church". They will experience a time of worship, relevant and engaging lessons, small group connection and activities, a monthly memory verse, and a time of prayer. There is never a lack of energy, fun, and growing in Kids Church!
Wednesday Evenings 4 Kids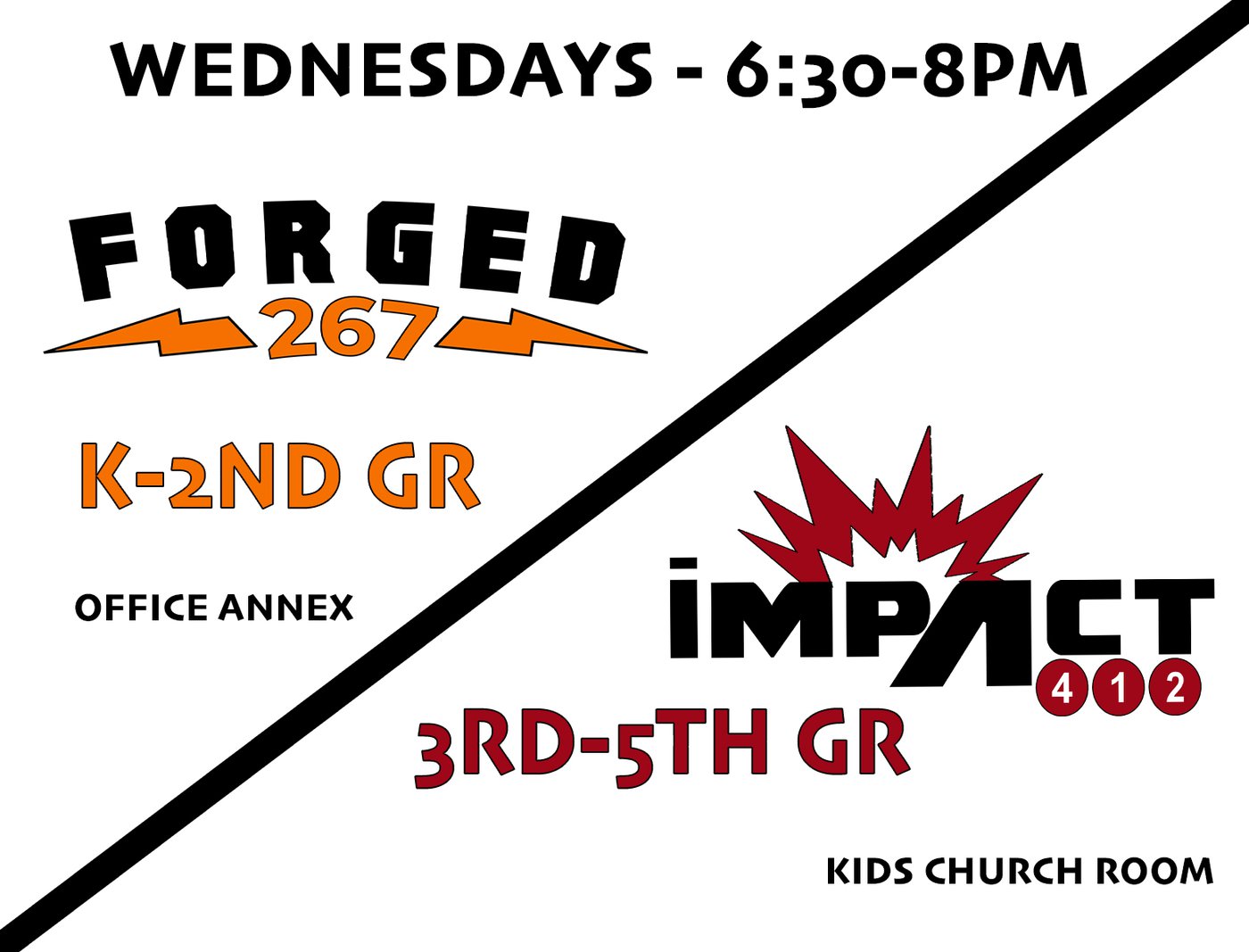 IMPACT (Wednesday Night Ministry for 3rd-5th Grade)
Impact is a ministry designed for 3rd - 5th grade students. We meet almost every Wednesday during the school year from 6:30-8pm in the MRCC Kids Church Room for a fun evening of games, time with friends, worship, and space to encounter Jesus. Feel free to stop by and check it out!
FORGED 267 (Wednesday Night Ministry for K-2nd Grade)
Forged is a ministry designed for Kindergarten through 2nd grade students. We meet almost every Wednesday during the school year from 6:30-8pm in the MRCC office annex for a fun evening of games, time with friends, worship, small groups, and space to encounter Jesus. Feel free to stop by and check it out!
5th and 6th Grade Discipleship (Oct-May)
Meets twice a month on Sundays from 7:45-9:15am in the office annex (across from the main building).
In this Ministry, students come together, share breakfast, and learn important truths from God's Word!
This ministry is designed to disciple and encourage student understanding and knowledge of God's Word with their peers and leaders. Students respond through interactive activities and biblical discussion.
Annual Activities / Events
Summer Camp - Each year we go to a camp designed to get us away from our daily routine and get us closer to Jesus in a fun-packed week of high-energy services and activities. Check the church calendar or home page website for details. Registration and dates will be available online in April for kids in 3rd-5th grade. Mark Your Calendars for 2024 - June 27-30
Elevate - KidMin Spring Retreat! This is typically a two-day retreat at a camp close to home so parents can volunteer to participate in the events and activities of the weekend. Elevate is a time for kids to encounter Jesus through games, activities, worship, and teaching. For kids 2nd-5th grade. Kids in K-1 are welcome to attend with an adult! We will send information to register and participate as the dates come closer.
Summer Outdoor Movie Nights - This is a family and community event, so feel free to invite your neighbors and friends! We gather in the grass outside the annex for games and activities at 7:30pm. The movie starts when the sun goes down (about 9pm) on the big screens outside! We have popcorn and candy to share, all you need is a blanket or lawn chair for a fun evening under the stars :)
Throughout the year, we will have other activities for our kids and families. Look on the web calendar link, Facebook, and bulletin for details and information.
Meet our Children's Pastor
Allison Aaby is our Children's Pastor. Allison and her husband, David, have been a part of the family MRCC family since 2015, with their three children (Kiley, Carson, and Tyler). They love being together in the great outdoors; camping, hiking, swimming, inner-tubing on grandma's boat, picking berries, and riding bikes. They welcome opportunities to share in these experiences with your family as well. Allison has an Undergraduate Degree in Sports and Exercise Science from WWU, a Master's Degree in Elementary Education from EWU, and is Ordained through the Assemblies of God.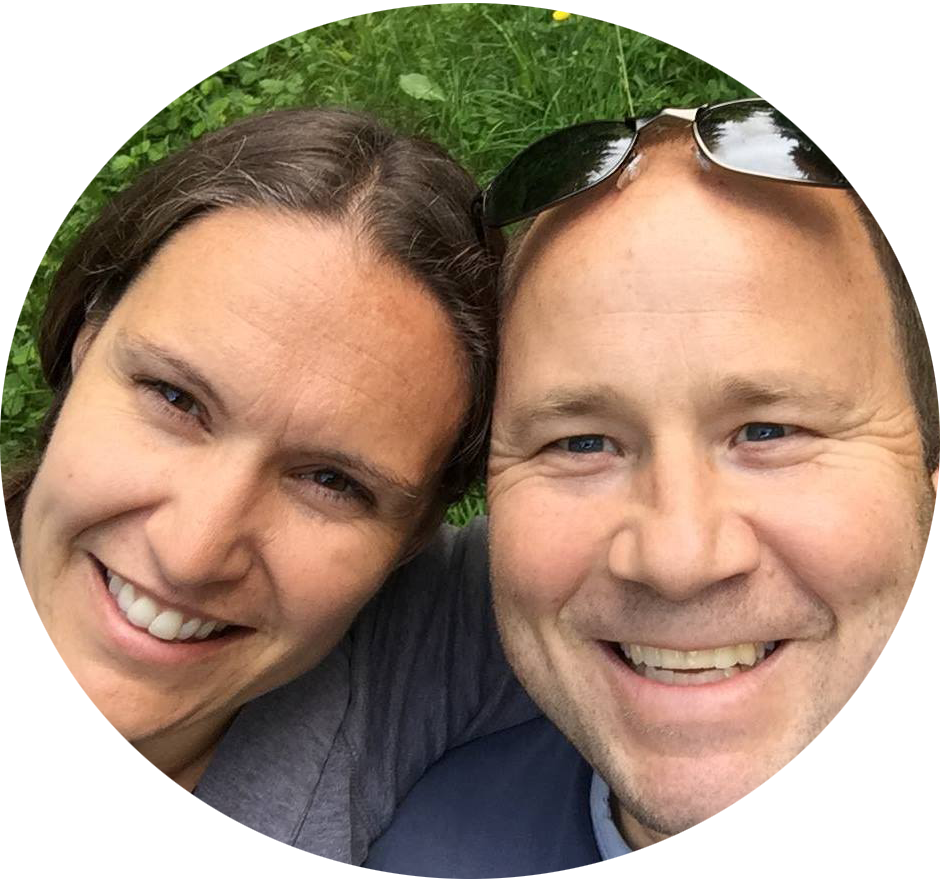 Meet our Early Childhood Director
Janae Graham is our Children's Assistant. She has lived in the Enumclaw area and has been attending MRCC since 2015. She loves to cook, take photos of her food, work with children and work on creative projects. She also loves her puppy, Luna. Janae is currently taking steps to become Licensed with the Assemblies of God.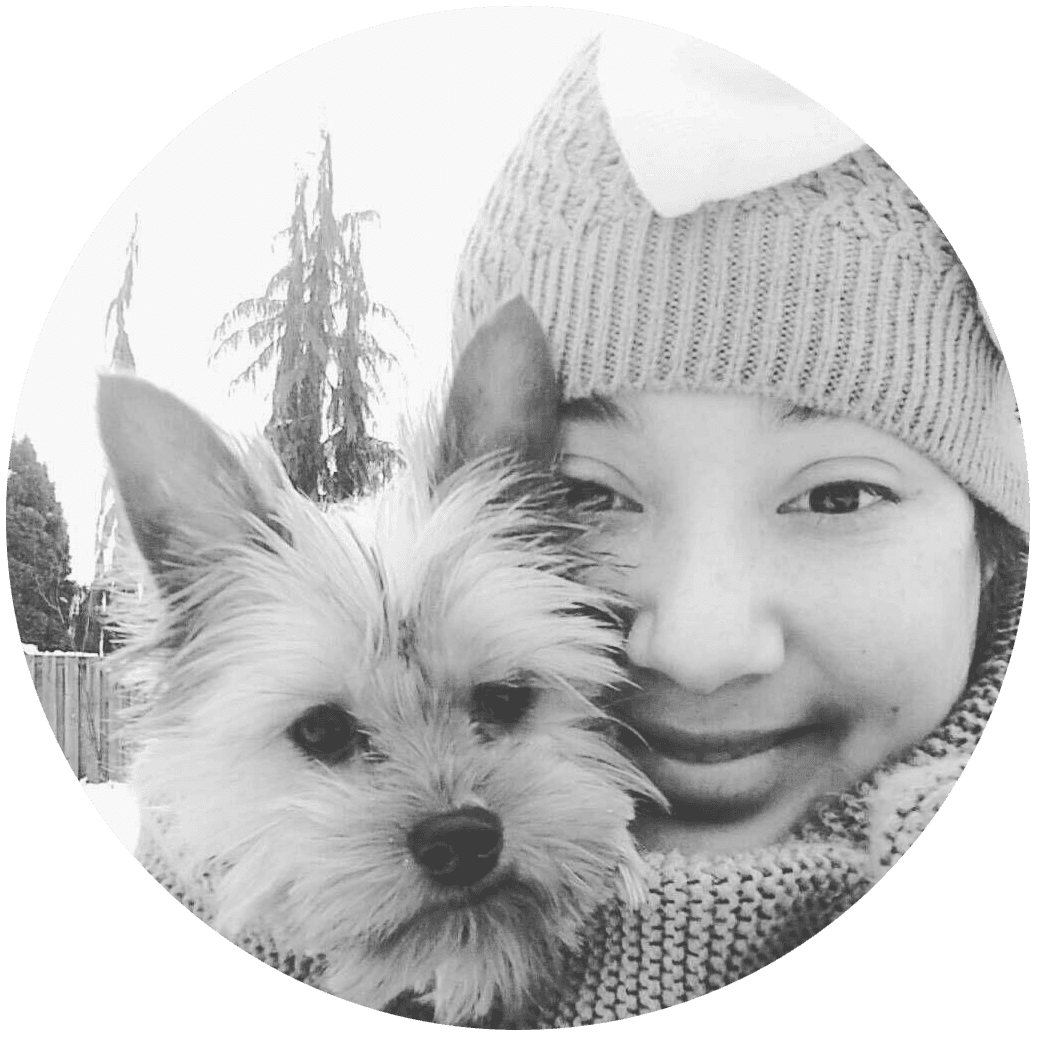 Got questions?
If you have any questions about the MRCC Kids' Ministries, programs, or events, please call or email Pastor Allison - 253-740-8417 - allison@mrccnow.org - Make sure to watch our website, Facebook, and Sunday bulletin for continual updates and details of events.